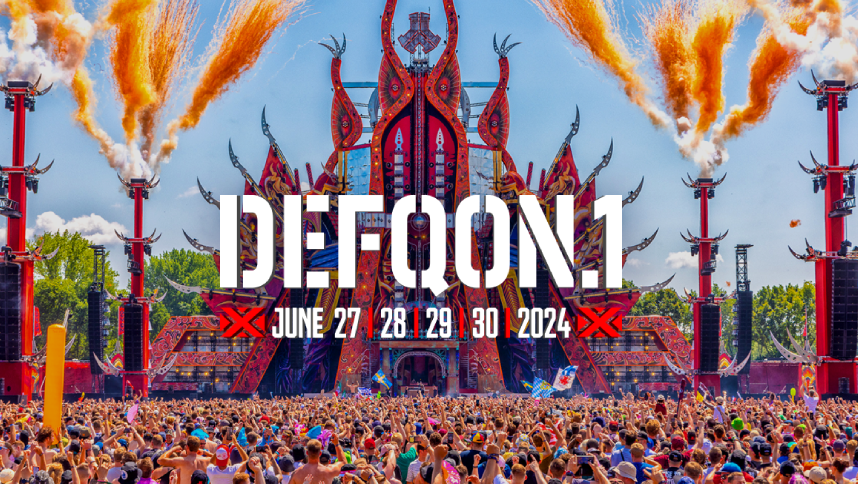 Defqon 1 : Power of the Tribe
[xyz-ips snippet="Variations"]
On this page you will see all the information regarding our tour to Defqon 1, including ticket packages and comfort options and what you need to do to secure your place.
Packages
You will need a Regular or Premium tour package to access the Festival ground.
We offer two tour packages, Regular weekend or Premium weekend Tour packages.
Our packages includes:
A Regular or Premium Defqon 1 weekend ticket

Return travel from Amsterdam Arena

A spot on the GIS campsite
*A Premium ticket includes:
Fast lane entrance to the Festival & Campsite




• Premium Decks at the RED, BLUE & BLACK




• Premium bars & toilets




• The best view to experience The Gathering, The Opening Ceremony, The Spotlight, POWER HOUR, The




Endshow, The Closing Ceremony & The Closing Ritual
GIS Campsite
The GIS campsite is our own private camping area, you can either bring your own camping equipment or purchase from us and we will have it set up for you when we arrive.
Camping equipment will be available from March.
Booking, Payment plans and Deposits
Monthly payment plans are available for this tour. You can choose either a 2 or 3 monthly payment plan for Regular or Premium Weekend Tour packages.
Payment plans must start by the 20th of December.
You can also pay in full for your packages or you can take advantage of our deposit options.
Pay a lump sum towards your ticket and then the rest by the 5th of March.
Comfort Booking  & Deposits 
If you booked a comfort option with us you will receive an invoice to be paid by the 20th of Decemeber 
Tour Rundown
For this tour we will be offering:
* A Massive GIS, & Festigo Boat pre-party in Amsterdam the day before Defqon (5pm-11pm) Complete with Headliners and some of our favourite acts from the UK Australia and beyond.
* A range of Comfort Options in the Sanctuary and the Highlands camping grounds at Defqon. Hosted by Festigo Travel.
* Premium and Regular Weekend tickets.
* Return travel from Amsterdam Arena Park.
* GIS camp – including – GIS Camp Flags, pre-pitched communal area, clearly marked walkways, campsite support and much more TBA.
* Camping Equipment options – including pre-pitched options (TBA)
* A Thursday – Friday – Saturday – Sunday Tour guide service – complete with Photographer and videographer (optional)
* Meet and Greet with Hardstyle and Hardcore DJ's performing at Defqon 1 (TBC)
We have also
* A new and improved booking service which will creating a seamless experience for all.
* Improved communications via email and Whatsapp (please add info@ravetours.com as a contact)
* A separate Whatsapp group for general chat.
* Improved check in's at Amsterdam Arena park, at the Camping ground, and in the coach park after the festival.
* Build your own camping equipment options.
* Camping Equipment packages.
* Sundrie Service – Soft drinks, water, snacks, cool boxes.
* GIS & Festigo Limited edition Merchandise range.
If you have any questions at all please feel free to Whatsapp us or send us an email to info@ravetours.com
Defqon 1 will take place at Biddinghuizen Showground on the 27th of June - 1st of July 2024.

When do Tour packages go on sale?

Tour packages are available now! You will need to book a ticket deposit to secure your place.

I'm coming on my own will I be ok?

Yes! We pride ourselves on bringing people together and making sure people make friends for life on our tours.

If you are coming on your own just let us know when you book and we will make sure that you are placed on a bus or in a camping area with amazing welcoming people.

How much do packages cost?

Each package varies in price, our Tour package prices this year a with Regular ticket, return travel and GIS Campsite was £342.50 + BF and our Premium (VIP) was £499.99 booking fee.

Comfort options were a minimum of £230 per person extra.

We do expect a small price rise this year.

Will payment plans be available?

We will be operating a split payment system for this tour.

This means you will be need to book your ticket deposit to secure your place.

The remaining payment can be made by the 1st of March.

What are the payment deadlines for this tour

Tickets for Defqon 1 Festival officially go on sale on the 28th of October.

You should have the funds available for your ticket deposit on this date.

The remaining payment for travel, campsite, booking fee and VAT can be made by the 1st of March.

Will comfort options be available to us?

Yes! This year we were given the opportunity to book several of the comfort options at Defqon 1 Festival. We hope to be able to give you the full range of comfort options for 2024.

Can i buy camping equipment from you?

Yes! We have massively improved our camping equipment service after a few bumps in the road and have struck a business partnership with Decathlon to make sure you get professional products at a better price!

All camping equipment will be pre-pitched for your arrival at Defqon 1 so you can turn up with all your camping equipment all ready to go, you will need to borrow our electric airbed pump though so you can sleep comfortably whatever time that may be!

We also strongly recommend that you take your camping equipment home with you or collapse it at least and pack it up so it can be recycled and donated to those who need it most.

What campsite improvements are you planning for this edition?

The main improvements we can tell you about are:
A dedicated campsite check in team who will check you on to the campsite and to your pitch.

GIS and Festigo branded flags and marquees to help finding the camping area that much easier.

Clearly marked walk ways around the camping area so you don't have to dodge tent pegs and guidelines making the campsite easier and safer to navigate.

Glow in the dark numbered stickers for your tents so you know where your are and we can mark out where you are on the campsite using what3words.

Communal shaded areas with benches and Gazebo for all to enjoy.

We are literally going all out to make it the best camping experience we have ever done!

Should I book my flights and hotels yet?

Feel free to book your flights and hotels once you have booked and paid your ticket deposit.

We strongly recommend that you arrive on the Wednesday night latest to make sure you have plenty of time to meet the bus on Thursday.

Return flights should be booked for at least 6pm incase of any delays.



What time do we need to meet?

We recommend that you arrive at the meeting point at least half an hour before the time stated incase of any delays.

Will there be two bus runs?

Yes!

We have moved our first bus meet to an earlier time so the second bus run will get there not long after opening.

What is your refund policy?

At Rave Tours, we are committed to providing you with the best possible experience and ensuring your satisfaction. We understand that circumstances may change, and we want to make sure our refund policy is fair and transparent. Please take a moment to review our refund policy outlined below:

1. 7-Day No Questions Asked Refund:

We offer a 7-day refund period for all tour bookings, starting from the date of your initial booking. During this time, you are entitled to a full refund of the tour price, no questions asked. If you decide to cancel your tour within this 7-day period, simply contact our customer support team at info@ravetours.com with your booking details, and we will process your refund promptly.

2. Refund Eligibility:

To be eligible for a refund, the following conditions must be met:

The refund request is made within the 7-day period from the date of booking.

You provide all necessary booking details, including the booking reference number and your contact information, when requesting the refund.

Bookings made within 1 month of the Tour commencing are not eligible for a refund


3. Processing of Refunds:

Refunds will be processed using the same payment method that was used for the original booking. Please allow 10 business days for the refund to be processed and reflected in your account, depending on your payment provider's policies.

4. Cancellations and Changes:

If you need to cancel or make changes to your tour booking after the 7-day refund period has expired, please contact our customer support team to discuss available options.

Depending on the circumstances, we may be able to offer alternative tour dates, credits for future tours, or partial refunds, subject to our discretion.

5. Tour Modifications and Cancellations by Rave Tours:

In the rare event that Rave Tours needs to modify or cancel a tour due to unforeseen circumstances, we will make every effort to provide you with suitable alternatives or a full refund. We will communicate any changes or cancellations to you in a timely manner using the contact information you provided during booking.
testimonials
What our customers say
It was my first time with Rave Tours and everything went great. It was fun to meet new people and the bus transportation was well organised. Absolutely recommended and I'll book again in the future :)
My first Masters of Hardcore tour wouldn't have been the same if I never booked through Rave Tours! Everything was organised very well and any questions were answered quickly!
Used rave tours a few times. Excellent service, great communication and a very friendly and welcoming host and group. Always make you feel welcome.
2nd Tour with Nick. Absolutely on the ball again with tickets and transport to Masters Of Hardcore this time. Always a great experience meeting everyone and the coach was bouncing. 10/10. Can't wait for supremacy with them now!
Really well organised, we knew exactly where we needed to be when because of the brilliant communication. Vibes and atmosphere on the bus was amazing! Really looked after us, thanks so much.
Defqon and Decibel - These 2 festivals were an absolutely unreal experience! I cannot fault anything about them and that's mainly down to how Nick & the crew organise everything, from transport & providing camping equipment. The great communication back and forth shows they do everything they can to keep you updated and provide you with great customer service. Can't recommend them enough and can't wait to do more in the near future with them 🙌🏻🙌🏻