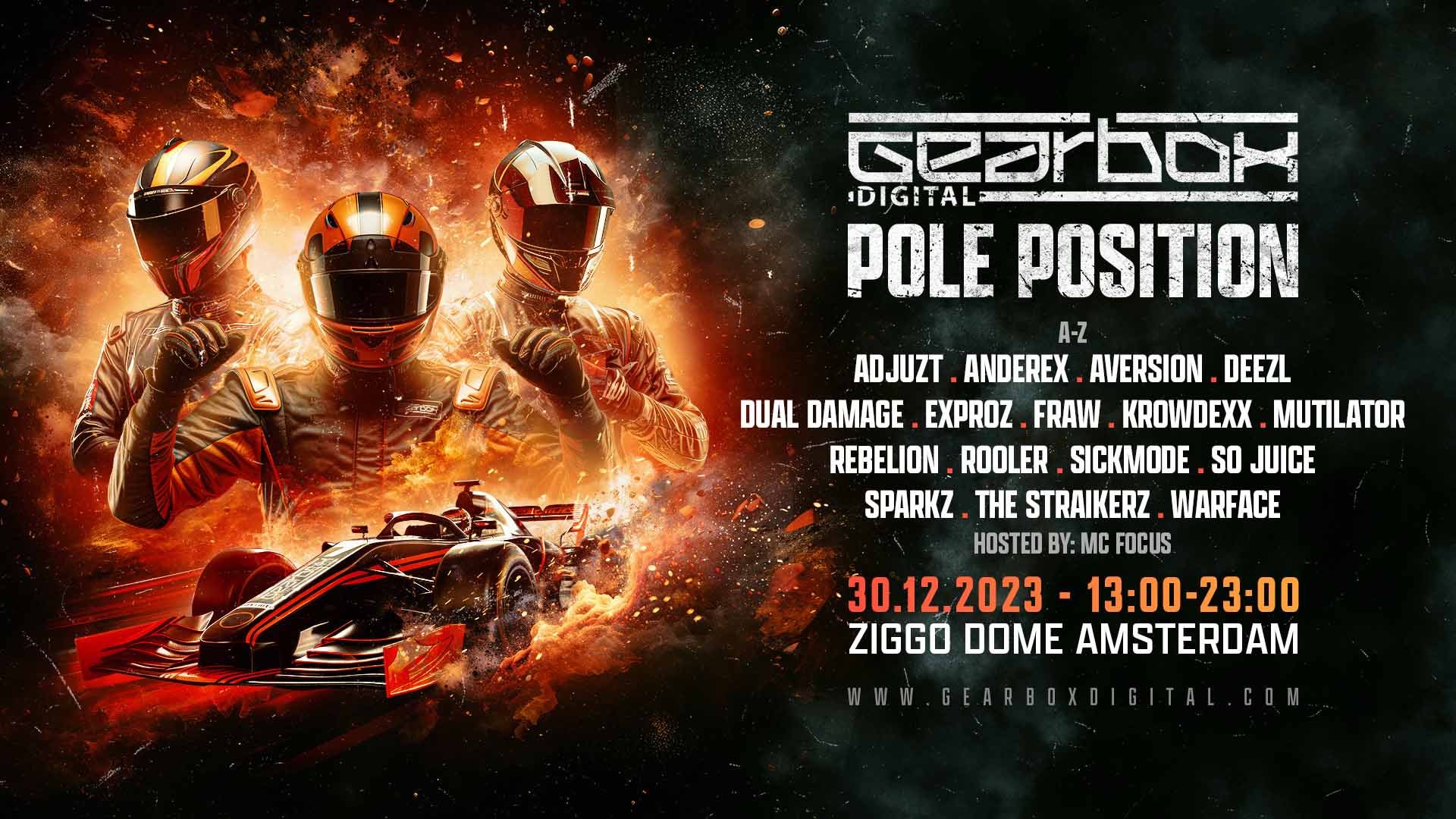 GIS Tickets – Gearbox Pole Position
GEARBOBX ARE TAKING OVER THE ZIGGODOME!!!
After an incredible Defqon afterparty hosting and selling out their last 5 events, including the AFAS Live, Gearbox takes Pole Position to one of the most iconic venues in The Netherlands
Gearbox – Pole Position is completely sold out!
Dont worry though!
Here at GIS we have managed to secure 50 tickets for our amazing troops on a first come first serve basis.
This is a ticket only event however there are rumours of a GIS-Pre-party in Amsterdam on the Friday night 🙂
𝗟𝗜𝗡𝗘 𝗨𝗣 (A-Z): Adjuzt, Anderex, Aversion, Deezl, Dual Damage, Exproz, FRAW, Krowdexx, Mutilator, Rebelion, Rooler, Sickmode, So Juice, Sparkz, The Straikerz, Warface.
Tickets will be issued a minimum of 2 weeks before the event.  NO REFUNDS.
When is Gearbox Pole Position?

Gearbox: Pole Position will take place on the 30th of Decemebr 2022 at The Ziggodome, Amsterdam, Netherlands.

Are there payment plans available?

Sadly there are no payment plans available for this event.

When should I book flights/accommodation?

Booking flights and accommodations as soon as possible is highly recommended as soon as you have booked your tickets. By booking early, you have a greater chance of finding lower fares and discounted hotel rates, as well as increasing your chances of getting your preferred flights and securing accommodation in your desired location.

It is important that flights are booked with at least 3.5 hours between flight arrival time and the bus meet time. This is to make way for any potential delays.

Will I be OK if I am on my own?

We strive on making each person feel included and welcomed into our community, even more so for those who choose to make the step to attend an event on their own. A big part of why we do what we do is to bring people together with our passion for music, and so if you are coming alone you can be assured that you will feel welcomed from the very beginning.

This tour will have an optional group chat which will include everyone who is attending. This gives those who want to, a chance to get to know each other.

When will tickets arrive?

Tickets will arrive in the 2 weeks before the event. These will be sent along with a detailed Itinerary providing you with all the important information you will require for your travels with us.

What is the returns policy?

At Rave Tours, we are committed to providing you with the best possible experience and ensuring your satisfaction. We understand that circumstances may change, and we want to make sure our refund policy is fair and transparent. Please take a moment to review our refund policy outlined below:

1. 7-Day No Questions Asked Refund:

We offer a 7-day refund period for all tour bookings, starting from the date of your initial booking. During this time, you are entitled to a full refund of the tour price, no questions asked. If you decide to cancel your tour within this 7-day period, simply contact our customer support team at info@ravetours.com with your booking details, and we will process your refund promptly.

2. Refund Eligibility:

To be eligible for a refund, the following conditions must be met:

The refund request is made within the 7-day period from the date of booking.

You provide all necessary booking details, including the booking reference number and your contact information, when requesting the refund.

Bookings made within 1 month of the Tour commencing are not eligible for a refund


3. Processing of Refunds:

Refunds will be processed using the same payment method that was used for the original booking. Please allow 10 business days for the refund to be processed and reflected in your account, depending on your payment provider's policies.

4. Cancellations and Changes:

If you need to cancel or make changes to your tour booking after the 7-day refund period has expired, please contact our customer support team to discuss available options.

Depending on the circumstances, we may be able to offer alternative tour dates, credits for future tours, or partial refunds, subject to our discretion.

5. Tour Modifications and Cancellations by Rave Tours:

In the rare event that Rave Tours needs to modify or cancel a tour due to unforeseen circumstances, we will make every effort to provide you with suitable alternatives or a full refund. We will communicate any changes or cancellations to you in a timely manner using the contact information you provided during booking.
testimonials
What our customers say
It was my first time with Rave Tours and everything went great. It was fun to meet new people and the bus transportation was well organised. Absolutely recommended and I'll book again in the future :)
My first Masters of Hardcore tour wouldn't have been the same if I never booked through Rave Tours! Everything was organised very well and any questions were answered quickly!
Used rave tours a few times. Excellent service, great communication and a very friendly and welcoming host and group. Always make you feel welcome.
2nd Tour with Nick. Absolutely on the ball again with tickets and transport to Masters Of Hardcore this time. Always a great experience meeting everyone and the coach was bouncing. 10/10. Can't wait for supremacy with them now!
Really well organised, we knew exactly where we needed to be when because of the brilliant communication. Vibes and atmosphere on the bus was amazing! Really looked after us, thanks so much.
Defqon and Decibel - These 2 festivals were an absolutely unreal experience! I cannot fault anything about them and that's mainly down to how Nick & the crew organise everything, from transport & providing camping equipment. The great communication back and forth shows they do everything they can to keep you updated and provide you with great customer service. Can't recommend them enough and can't wait to do more in the near future with them 🙌🏻🙌🏻