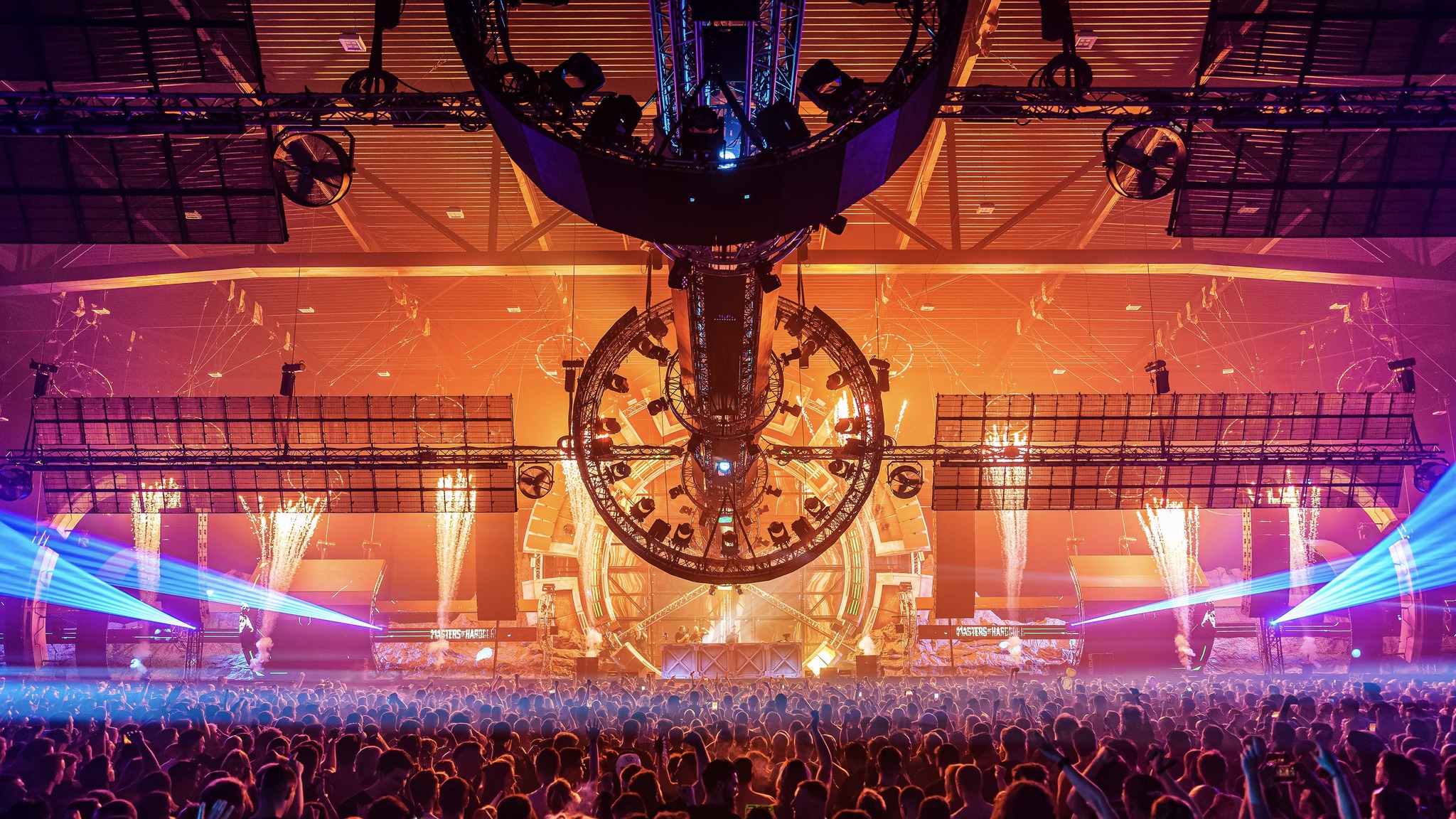 GISBUS to Masters of Hardcore
Embark on a Hardcore Journey with GISBUS to Masters of Hardcore!
Experience Unforgettable Music, Thrills, and Raw Power on March 30th, 2024.
Gear up for an electrifying adventure as we invite you to join us on an exhilarating ride aboard the GISBUS to Masters of Hardcore! Brace yourself for an explosive event set to ignite the senses on Saturday, March 30th, 2024, at the renowned Brabanthallen in Den Bosch (NL). Get ready to immerse yourself in an epic experience that will leave you yearning for more.
Be the First to Know:
Don't miss out on a single beat! Pre-register your interest today and be among the first to receive exclusive news and updates about this electrifying event.
What's Included in Our Exclusive Package:
VIP or Regular Ticket: Tailor your experience to your preferences with a choice between VIP or Regular tickets, ensuring you access to the heart-pounding excitement.
Masters of Hardcore Official Afterparty:Its tradition for us to join the Official afterparty! Whats the point in going all that way to miss the best part?
Return Travel from Eindhoven Flying Pins: Enjoy seamless travel as we provide convenient return transportation from Eindhoven Flying Pins, ensuring your journey is as thrilling as the event itself.
Entry to Exclusive Pre-Party: Elevate the anticipation with entry to our exclusive pre-party. The stage is set for an electrifying evening that will set the tone for the main event.
Why Choose the GIS Tour:
Seasoned Tour Stewards: Benefit from our experienced tour stewards who possess unparalleled knowledge of the festival, the artists, and the captivating Netherlands.
Guaranteed Access: Secure your entry to high-demand events with our guaranteed tickets for sell-out spectacles.
Flexible Payment Plans: Make your dream event a reality with our flexible payment plans designed to suit your convenience.
Professional Transport: Trust in our professional transport options ensuring your safety and ease of travel to and from the festival.
Forge Bonds: Immerse yourself in a community of like-minded individuals and make lifelong friends who share your passion.
Crafting Unforgettable Moments: At GIS Tours, we specialise in creating moments that linger in your heart and mind, crafting memories that withstand the test of time.
Prepare for the Hardcore Awakening:
As we unveil more details about this exhilarating event, prepare to be part of an unforgettable journey. Mark your calendars, spread the word, and gear up for a night of unity, music, and raw power that promises to redefine your festival experience.
Elevate your journey into Hardcore energy – secure your place now!
When is Masters of Hardcore?

Masters of Hardcore will take place on the 30th of March 2024 at Brabanthallen, Den Bosch, Netherlands.

Are there payment plans available?

To ensure that our tours are accessible to as many people as possible, payment plans are available. Depending on the proximity of the event, you can choose between two or three payment options.

When should I book flights/accommodation?

Booking flights and accommodations as soon as possible is highly recommended as soon as you have booked your tour package.. By booking early, you have a greater chance of finding lower fares and discounted hotel rates, as well as increasing your chances of getting your preferred flights and securing accommodation in your desired location.

It is important that flights are booked with at least 3.5 hours between flight arrival time and the bus meet time. This is to make way for any potential delays.

Where is the meeting point?

The meeting point is at Eindhoven Flying Pins, which is a 5 minute walk from Eindhoven train station. This station is only a 20 minute journey from Eindhoven Airport and a one hour train journey from Amsterdam Central.

What time do we meet for the bus?

The bus meet will begin at 1pm. The tour host will be present from this time to begin checking attendees in. At 1:15pm, we will conduct a roll call to confirm that everyone is present. The bus is scheduled to depart for Masters of Hardcore at 1:30pm sharp.

It is of utmost importance that you take these times into account when booking your travel arrangements.

What time does the bus return?

The return bus is scheduled to arrive back at Flying Pins Eindhoven 5:00.

This is to allow time for the afterparty.

It is important to take this time into account when booking return flights. We advise to allow adequate time to travel to the airport, and to allow for enough to to pass through security.

This is to allow time for the afterparty.

Can I drink/smoke on the bus?

Drinking is permitted on the bus under the conditions that all waste is disgarded in the waste bags provided and removed from the bus when arriving at the event.
Glass bottles and open containers are strictly forbidden

Smoking is strictly prohibited. This includes e-cigarettes.

Please respect your surroundings. Anyone who is caught causing damage to the coach will be handed over to the local police and banned from any future tours.

What happens if I am late for the bus?

It is your responsibility to assure that you are on time for the bus. It is crucial to take into account at what time the bus meet begins when you are booking your flights leaving your accommodations.

Will I be OK if I am on my own?

We strive on making each person feel included and welcomed into our community, even more so for those who choose to make the step to attend an event on their own. A big part of why we do what we do is to bring people together with our passion for music, and so if you are coming alone you can be assured that you will feel welcomed from the very beginning.

This tour will have an optional group chat which will include everyone who is attending. This gives those who want to, a chance to get to know each other.

When will tickets arrive?

Tickets will arrive in the 2 weeks before the event. These will be sent along with a detailed Itinerary providing you with all the important information you will require for your travels with us.

What is the returns policy?

At Rave Tours, we are committed to providing you with the best possible experience and ensuring your satisfaction. We understand that circumstances may change, and we want to make sure our refund policy is fair and transparent. Please take a moment to review our refund policy outlined below:

1. 7-Day No Questions Asked Refund:

We offer a 7-day refund period for all tour bookings, starting from the date of your initial booking. During this time, you are entitled to a full refund of the tour price, no questions asked. If you decide to cancel your tour within this 7-day period, simply contact our customer support team at info@ravetours.com with your booking details, and we will process your refund promptly.

2. Refund Eligibility:

To be eligible for a refund, the following conditions must be met:

The refund request is made within the 7-day period from the date of booking.

You provide all necessary booking details, including the booking reference number and your contact information, when requesting the refund.

Bookings made within 1 month of the Tour commencing are not eligible for a refund


3. Processing of Refunds:

Refunds will be processed using the same payment method that was used for the original booking. Please allow 10 business days for the refund to be processed and reflected in your account, depending on your payment provider's policies.

4. Cancellations and Changes:

If you need to cancel or make changes to your tour booking after the 7-day refund period has expired, please contact our customer support team to discuss available options.

Depending on the circumstances, we may be able to offer alternative tour dates, credits for future tours, or partial refunds, subject to our discretion.

5. Tour Modifications and Cancellations by Rave Tours:

In the rare event that Rave Tours needs to modify or cancel a tour due to unforeseen circumstances, we will make every effort to provide you with suitable alternatives or a full refund. We will communicate any changes or cancellations to you in a timely manner using the contact information you provided during booking.
testimonials
What our customers say
It was my first time with Rave Tours and everything went great. It was fun to meet new people and the bus transportation was well organised. Absolutely recommended and I'll book again in the future :)
My first Masters of Hardcore tour wouldn't have been the same if I never booked through Rave Tours! Everything was organised very well and any questions were answered quickly!
Used rave tours a few times. Excellent service, great communication and a very friendly and welcoming host and group. Always make you feel welcome.
2nd Tour with Nick. Absolutely on the ball again with tickets and transport to Masters Of Hardcore this time. Always a great experience meeting everyone and the coach was bouncing. 10/10. Can't wait for supremacy with them now!
Really well organised, we knew exactly where we needed to be when because of the brilliant communication. Vibes and atmosphere on the bus was amazing! Really looked after us, thanks so much.
Defqon and Decibel - These 2 festivals were an absolutely unreal experience! I cannot fault anything about them and that's mainly down to how Nick & the crew organise everything, from transport & providing camping equipment. The great communication back and forth shows they do everything they can to keep you updated and provide you with great customer service. Can't recommend them enough and can't wait to do more in the near future with them 🙌🏻🙌🏻